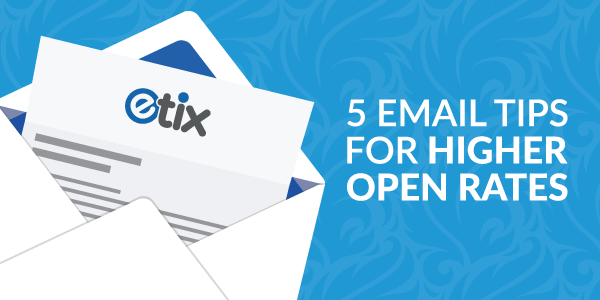 5 Email Tips for Higher Open Rates
by EtixMarketing
|
June 15, 2018
Marketing
Email marketing can be an effective way to spread the word about an upcoming event and drive ticket sales. And what are the keys to a successful email campaign? We've compiled our tried and true tips for interacting with your subscribers effectively.
#1 Include Compelling Content
This should begin with your subject line and preview text, and be reflected throughout the entirety of your email. Since the subject line is the first point of contact that a recipient has with your email, it should be compelling while quickly establishing the point. If the subject line isn't catchy, there is a lower chance that your subscribers will be interested in seeing the content inside.
Beyond these opening elements, your goal should be to maintain the reader's interest using the content within your email. Use calls to action throughout the body of your email. Consider adding clickable buttons that will take the reader to a ticket sales page, or link your images to a page with more information about an event.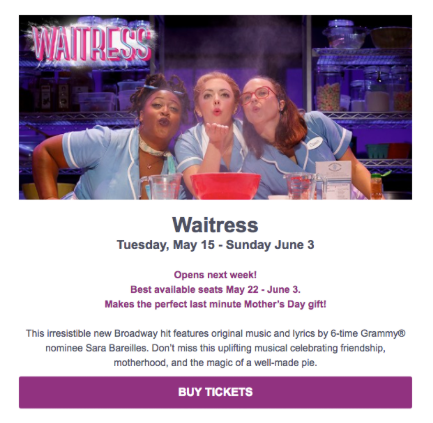 #2 Keep Your Contact List Updated
It's important to keep your list of subscribers up to date. You can maintain a healthy email list by performing regular customer imports, or including a sign up form on your website. By targeting customers who are definitely interested in your organization or events, you have a better chance of turning your email blast into more clicks and conversions.
#3 Send Targeted Content
Try segmenting your email list as a way to send different content to curated audiences. Odds are, different individuals on your email list have different interests. We recommend keeping track of your subscribers' genre preferences so that you can notify them of upcoming events that fall under that category.
A great way to segment your ticket buyers by different interests or purchase history is with Etix Community. Etix Community allows you to create dynamic customer segments and export directly to Mailchimp. This saves you time curating audiences so you can focus on content.
#4 Test Multiple Variables
Many email automation platforms provide the option to send A/B testing emails to compare variables and find what works best for your list. A/B testing allows you to experiment with varying subject lines or varying times, and then send the best version to the remainder of your list. Using this feature can not only give you the best response rate, but can provide beneficial insight to be used in future emails.
#5 Maintain Consistency
Every organization or venue has their own distinct voice, and their own unique brand. Your customers recognize and respond well to consistent branding. Use this to your advantage! Maintain that voice and brand throughout your email correspondence. Details like your headline, logo, pictures, and content should complement the brand that has been established within your organization and that patrons have come to expect. Remember, this doesn't mean that every email should be identical – you can keep your content creative while consistently representing your brand.
When executed properly, email campaigns have the potential to engage past and potential customers, and bring in significant revenue. Making these simple changes to your email marketing strategy can drive awareness and sales for your upcoming event.
If you have more questions about incorporating email into your marketing strategy, contact us here.
MORE ABOUT OUR MARKETING SOLUTIONS