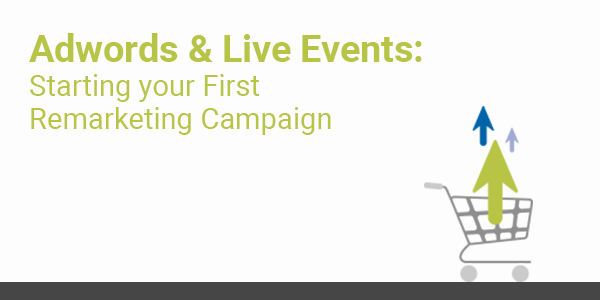 Adwords & Live Events: Starting your First Remarketing Campaign
by scollins
|
December 15, 2017
Marketing
Live events marketing generates a purchase funnel that can differ from other industries. Many ticket purchases happen during the beginning of an onsale period, followed by a lull, then a heavy push during the days up until the event. Due to this unique pattern, it's important that you are targeting the right users at the right time to prompt more ticket purchase conversions.
Many would-be ticket purchasers enter the ticket purchase process, but don't actually finish their transaction. Catching information as users enter the conversion funnel can be helpful, if that user ends up leaving the purchase process. Once information is captured, it can be used to retarget and entice visitors to finish purchasing their tickets. This is why remarketing through AdWords is a valuable strategy.
The Remarketing Pixel
Adwords offers a remarketing pixel code that can be placed on your website and a given performance, event series, or venue ticketing page in Etix. The AdWords remarketing pixel code collects demographic and activity-based information and kicks it back to AdWords. We'll cover benefits of this information in an upcoming blog post.
To create the remarketing pixel in your AdWords account:
Visit the Shared Library and move to Audience Manager. From there, build a new remarketing list and generate a pixel. You'll create a new remarketing list from Website visitors. AdWords recommends doing this in the newer interface.

Once you generate the pixel, you can place it in the </head> tag of your website and send it to your Client Services or Rockhouse Partners rep to be placed on the ticketing page of your event or venue.
From the time the code is placed, Adwords will begin building a list of your website visitors. This may take some time to aggregate sufficient data, so it's a good idea to place the pixel as early as possible so it's ready when you need it. Once there is a thorough list of users who have hit the page where the pixel was placed, you will be able to target ads to this list.
When you're building your ad group, you'll select "Remarketing, All Visitors" as your audience. You can remind those who exited the purchase process before the endpoint that your event is happening, encouraging them to buy. Remarketing is a more valuable use of ad dollars than placing cold ads to a new audience because it delivers ads to a high-intent audience. These ads will appear as the user navigates from site to site, reminding them of their tickets that are still waiting to be purchased.
From this single "All Visitors" remarketing list, AdWords will also create a "Similar to All Visitors" list, providing an additional audience to market to. This is helpful in expanding your reach and giving you insight into the interests of your audience.
Adwords Remarketing #ProTip
For an even more precise remarketing tactic, you can place a conversion pixel on the confirmation page of a purchase within Etix. This will prevent targeting those who hit the remarketing pixel but then went on to complete the purchase process.
To learn more about Adwords Remarketing and how to leverage your website visitors, contact us here.
ASK US ABOUT MOBILE