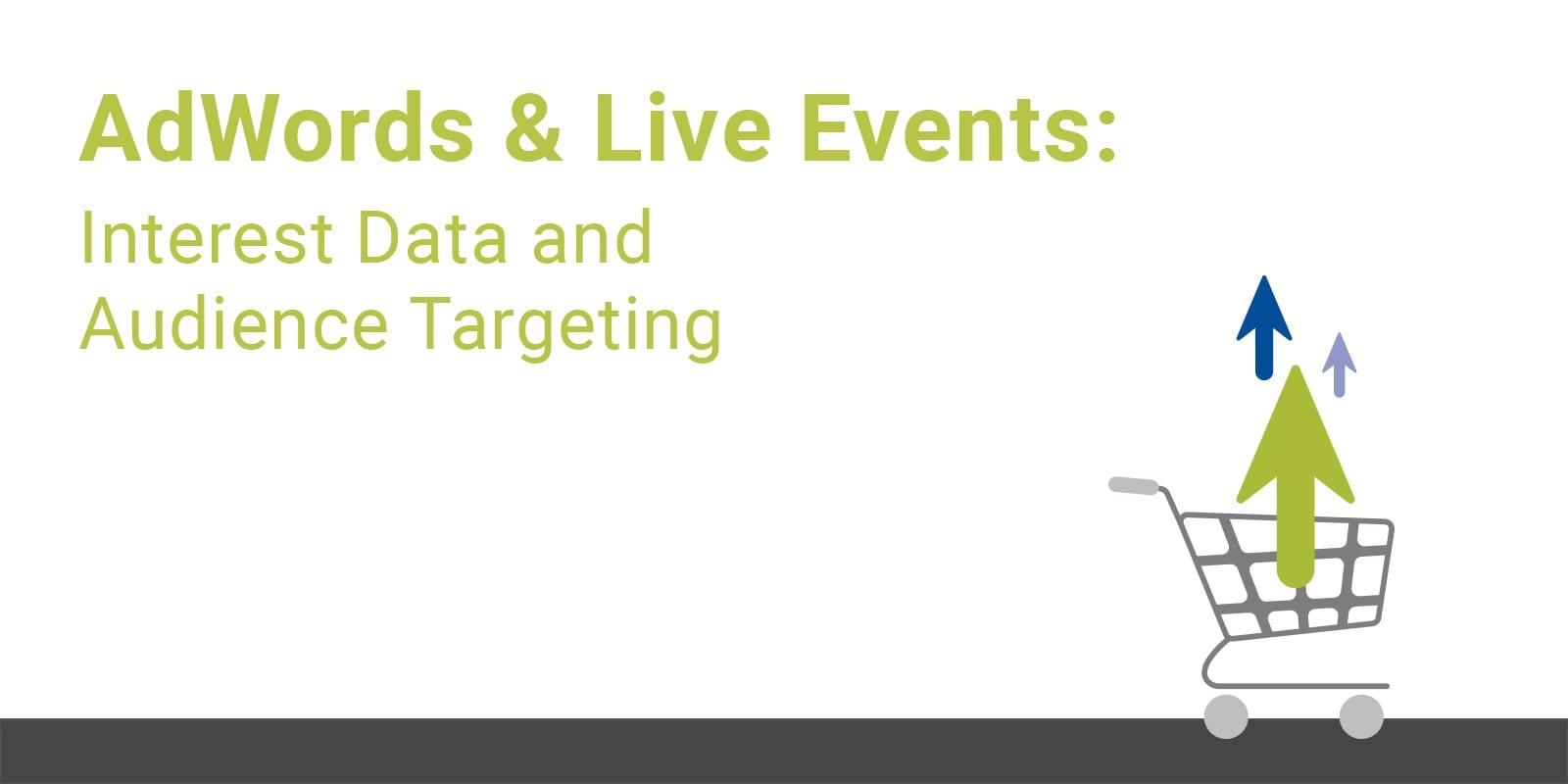 AdWords and Live Events Part 2: Interest Data, Audience Targeting
by scollins
|
February 27, 2018
Marketing
Live events marketing generates a purchase funnel that can differ from other industries. Many ticket purchases happen during the beginning of an onsale period, followed by a lull, then a heavy push during the days up until the event. Due to this unique pattern, it's important that you are targeting the right users at the right time to prompt more ticket purchase conversions.
Catching information as users enter the conversion funnel can be helpful, especially if that user ends up leaving the purchase process. Once information is captured, it can be used to retarget and entice visitors to finish purchasing their tickets. This is why remarketing through Google AdWords is a valuable strategy.
Now that you have added your remarketing pixel and started your AdWords strategy, it's time to take it a step further. As a reminder, placing a remarketing pixel can be a valuable endeavor, even if you use a more rigid targeting process for your ads or are interested in brand awareness (i.e. targeting your ads to high-intent users may not be the goal) and don't care to target via remarketing.
Once placed, the AdWords remarketing pixel returns demographic and interest data to your AdWords account, building a bank of user insights. This data includes age, gender, parental status, location, devices, in-market audiences, and affinity audiences. There are a few types of audience targeting that you can explore in depth.

In-market Audiences
In-market audiences are groupings of users "in the market" for a given product or service based on previous direct web activity (e.g., users that spend a lot of time on Truecar.com, Carmax.com, and car manufacturer websites may get bucketed as part of the in-market audience for "Motor Vehicles," as Google assumes they are shopping for cars). In-market audiences are great for targeting web users who are actively searching for concerts or live events in your area but haven't discovered your venue or event yet. 
Affinity Audiences
Affinity audiences are groupings of users that fall into interest-related buckets based on web activity (for example, users that spend time checking out Pitchfork.com or affiliated sites may get bucketed as an "Indie Music Fans"). Top affinity and in-market audiences are kicked back through the pixel to AdWords, and account managers can view the interest groups that are visiting their sites. This can provide further insight into the people who comprise your audience. From this single "All Visitors" remarketing list, AdWords will also create a "Similar to All Visitors" list, providing even further user insight. You can then use these insights to build targeted audiences in AdWords made of these groups. You can also use these verified interest categories as guides when placing non-digital media buys like print or radio.
Whether you utilize remarketing pixels as a targeting function or just use them to collect more demographic and interest data about potential buyers, placing a pixel on your site or within Etix is a Rockhouse Partners-recommended aspect of your digital marketing plan. Even if you don't plan to use the information collected anytime soon, it takes a few weeks to start aggregating reliable information regarding users. This means that when you are ready to use the information, it will already be waiting for you.
To learn more about Adwords Remarketing and how to leverage your website visitors, contact us here.
ASK US ABOUT ADWORDS