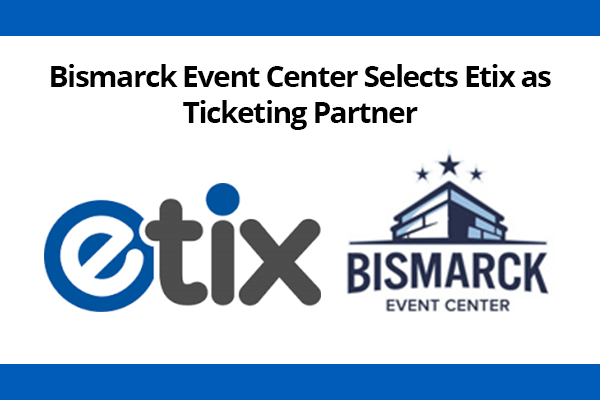 Bismarck Event Center Selects Etix as Ticketing Partner
by Zarrin Alam
|
June 30, 2016
Company News, Case Studies
Bismarck, ND (Etix) June 30, 2016—Bismarck Event Center, located in Bismarck, North Dakota,  has announced the signing of a multi-year agreement with Etix to become the exclusive ticketing provider for the venue located Bismarck, North Dakota.   This new partnership will help increase ticket sales for the event center using Etix's ticketing and marketing services.
Charlie Jeske, Director of the Bismarck Event Center, was immediately drawn to Etix's differentiated approach to driving ticket sales. "Etix is the best fit for us," he stated. "Their expansive in-house digital marketing program, flexible ticketing system, hands-on approach to customer service and the ability to maintain full ownership and control of our consumer database went into our decision to make the move to Etix. We feel like we have a real ticketing and marketing partner that can help us build brand equity."
Bismarck City Commissioner Josh Askvig stated, "We are excited to move forward with Etix as they are a proven company that will take us to the next step in providing great customer service with the ticketing experience. Partnering with Etix will provide additional mobile and consumer friendly ticketing options for our events in our facilities, which is what our attendees have said they want in a digital age."

"Etix is proud to have the Bismarck Event Center join our stellar roster of clients," said Travis Janovich, CEO of Etix. "We look forward to developing a strong relationship with both venues and are eager to help them promote their events and sell more tickets through our ticketing and marketing expertise."
To purchase tickets for any upcoming performances at the Bismarck Event Center is through their website www.bismarckeventcenter.com or at the box office on 315 S. 5th Street, Bismarck ND (Monday-Friday 11:30 am – 5 pm CST). Alternatively, patrons can purchase tickets  through Etix at www.etix.com or by calling 800.514.3849 (Monday-Saturday 8am to 7pm, Sunday 11am to 7pm CST).
About Etix
Founded in 2000, Etix is an international Web-based ticketing service provider for the entertainment, travel and sports industries, processing over 50 million tickets per year in 40 countries. As the largest independent ticketing company in North America, Etix provides flexible and secure online and box office ticketing solutions, integrated digital marketing services and robust e-commerce fulfillment to over 4,100 venues, theaters, arenas, festivals, fairs, performing arts centers and multi-use facilities. Headquartered in Morrisville, NC, Etix has offices in Austria, China, Germany, Holland and Japan, as well as Nashville, TN. For more information, visit www.etix.com.
About Bismarck Event Center
The Bismarck Event Center is a City of Bismarck organization managing three facilities for the area: the Arena, Exhibit Hall and the Belle Mehus Auditorium. Hosting a variety of sporting events, concerts, shows, conventions and meetings, the Event Center boasts over 200,000 square feet of space filled with experiences for all ages and interests year-round.
For more information, please contact:
Aaron Bare, Director of Marketing
Etix, aaron.bare@etix.com

Charlie Jeske, Director
Bismarck Event Center, cjeske@bismarcknd.gov
-####-