Client Success Story: Majestic Theatre Unlocks the Power of Fan Data
by Wendy Beasley
|
February 20, 2018
Marketing, Case Studies
"We really appreciate the back end [of the Etix platform] that gives us full access to all of our data. We can really customize our marketing programs with the information that exists within the Etix system."
 Lauren Toler, Director of Marketing at Majestic Theatre
The Majestic Theatre in Madison, Wisconsin is a 600-capacity venue that began as a vaudeville theater over 100 years ago. Since 2007, it has been the region's premier location for concerts, comedy shows, and other live events, hosting over 175 shows a year. Etix has been their trusted ticketing partner since the re-launch, and co-owners Matt Gerding and Scott Leslie chose Etix for their expertise, easy-to-use platform, and excellent customer service. Gerding commented, "We like the personalized touch Etix provides us. Our reps have been fantastic."
The Challenge
One of the ongoing challenges the team at Majestic faces is ensuring they're reaching the right audiences for their shows. Director of Marketing Lauren Toler and her team rely heavily on the plethora of data that Etix provides; however, compiling the data to understand consumer behavior and then breaking out customer audiences into specific segments was time-consuming and challenging. Toler noted, "We would pull data on each show, and then put that into spreadsheets to determine if a fan was the right fit for our marketing campaigns."
The Solution
Etix Analytics provides Lauren Toler and her team with detailed reports to get better insight into Majestic's audiences. One tool that Majestic relies upon is Compare Performances, which examines ticket sales trends for current shows versus previous events. This data provides insight when making decisions for future marketing plans and artist booking. The Majestic team also uses the Zip Code report to discern how far their fans travel to attend shows.
The Majestic team wanted to dive deeper into fanbase behavior. In 2016, they began using Etix Community, a customer relationship management (CRM) tool that enables users to tailor audience segments using demographic and purchase data. Toler can now look at fan behaviors down to the sub-genre level, like psych rock or folk rock, and send out campaigns that speak more to the audience she's targeting. "Etix has really enabled us to be more thoughtful in how we break out our marketing segments. We're able to speak to specific communities using their language, and better appeal to those fans."
The Results
By combining the forces of Etix Analytics and Etix Community, the Majestic has increased ticket sales by nearly 10% through targeted pre-sale and on-sale email outreach and gained a significant savings in time. "It only takes five minutes now to set up our segmentation, so we can devote our energies toward creating marketing programs and campaigns."
The Majestic team also combines the insights it gains from Etix Analytics with other built-in marketing tools to learn more about their fans. They have implemented a Checkout Survey during the purchase process, which asks the ticket buyers how they found out about the show. The data gleaned from this survey gives the team a better picture of where their ad dollars are most effective. In addition, Majestic uses the Performance Recommendation feature to upsell future shows in the same genre during the checkout flow. This creates more revenue per transaction and gives the team a better understanding of the customer's music preferences.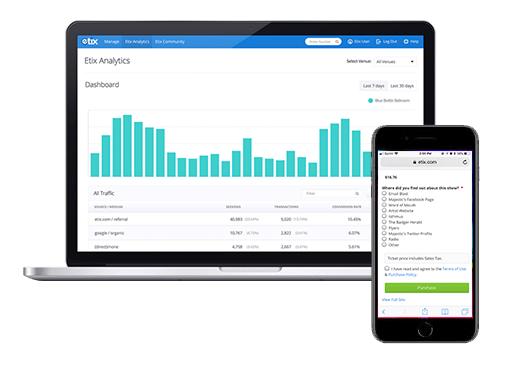 Client Hints and Tips
For other mid-size music clubs who want to understand more about their fans, Toler recommends using all of the tools available to create a well-rounded customer perspective. "Instead of just pulling past shows, look at your customer details," Toler said. "How much money are they spending? Do they purchase tickets online? Who are your repeat buyers?"
Through a combination of Etix's detailed analytics reports, marketing automation, and segmentation tools, the Majestic team has developed a deep understanding of—and relationship with—their fanbase.