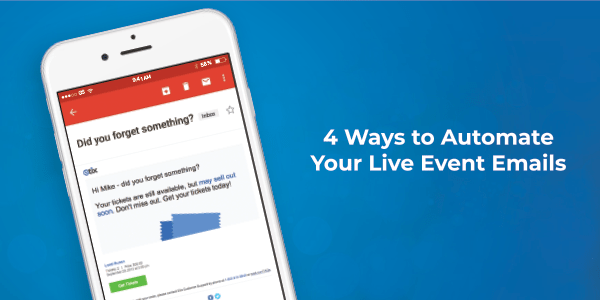 4 Ways to Automate your Live Event Emails
by Zarrin Alam
|
March 15, 2018
Marketing
Much like producing an event, email marketing takes a lot of effort. You want to catch the right customers at the right time. Except you can't exactly sit and wait for someone to be interested in buying tickets and then immediately send an email.
Email automation is your answer to sending pre-event, reminder, or even post-event emails as often as possible, without even lifting a finger. Not only is this an easy way to remind fans to buy those tickets, but also grow your email database.
In 2017 alone, our automated email reminders generated over
$1.8 million in additional ticket revenue for our partner venues and live events
. Here are four different automated email techniques you can implement now that will help you catch customers at the right moment, drive ticket revenue, and build your fan database.
Onsale Reminders
Early ticket purchasers are motivated to purchase tickets by FOMO (fear of missing out). They are more likely to show interest pre-announcement and jump on an on sale as soon as it's live. Fans are on high alert to know when tickets are on sale and are anticipating a signal to let them know. Our Performance Onsale Reminder allows fans to subscribe beforehand and an email is sent one hour before the public onsale to automatically alert subscribers when tickets are ready to be purchased.
The Performance Onsale Reminder generates buzz for an event before tickets are on sale, which results in a conversion rate of almost 20%. This email automation feature drove almost $600k in early ticket purchases in 2017.
Cart Abandonment Retargeting
Would-be ticket buyers drop off the purchase process for a number of reasons. That's why when a fan attempts to leave the page before finishing their purchase, a pop-up is triggered to allow the fan to enter their email address and be reminded later to purchase.
Not only does this feature re-engage hesitant fans, but also sends a follow-up email to entice them to finish their incomplete transactions. Cart Abandonment is our number one driver of automated email conversions, with over 10,000 attributed transactions in a year.
Post Event Thank You Email
The first 24 hours after your event are crucial for fans. They're still in a euphoric kind of bliss, which we like to call the "afterglow." An easy way to keep your venue relevant to fans is sending a thank you email. It seems simple to send a quick thank you to your fans, but there is a difference between sending a personalized thank you vs. a generic broadcasted message. We've noticed adding relevant event recommendations in a thank you email drives more revenue, as fans are more likely to buy while still in the afterglow.
Automated Thank You emails contributed to over 1,400 transactions and $100,000 in extra revenue in our clients' pockets just in 2017.
More Than Just a Confirmation Email
Since everyone receives an order confirmation after they purchase tickets, we see this as an opportune moment to entice fans to buy tickets for another show. At the end of each order confirmation email is a set of performance recommendations or upcoming shows. Fans can see what's coming next to your venue or upsell options including advanced parking, extra day passes, or maybe another concert that they didn't before.
Order Confirmation emails generated almost $200,000 in additional revenue for our clients in 2017.
To learn more about how you can start using email marketing automation to drive extra revenue for your event, contact us!