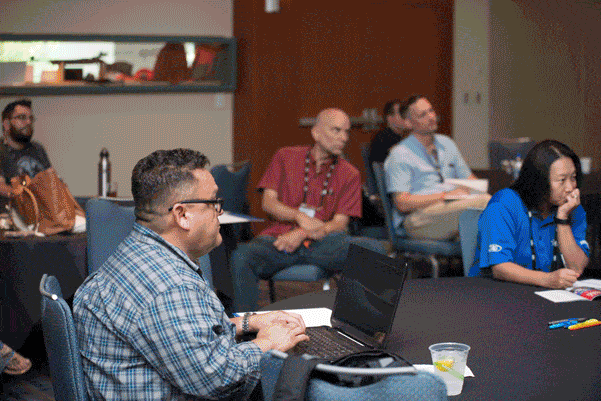 The Etix Blast 2016 Recap You've Been Waiting For
by Zarrin Alam
|
October 11, 2016
Community & Culture, Industry Events, Company News
[vc_row type="in_container" scene_position="center" text_color="dark" text_align="left"][vc_column column_padding="no-extra-padding" column_padding_position="all" background_color_opacity="1″ background_hover_color_opacity="1″ width="1/1″][vc_column_text]
Here's to another Blast for the history books! For Etix Blast 2016, we put together one incredible event gathering our clients, partners, and the Etix team.  Thanks to everyone who joined us in our hometown for plenty of networking opportunities and festival happenings.  We had an amazing time with each and every one of you, and we look forward to seeing you in 2017!
Until then, we're giving you the highlights from this year's Blast.
CHECK OUT OUR FLICKER GALLERY [/vc_column_text][/vc_column][/vc_row][vc_row type="in_container" scene_position="center" text_color="dark" text_align="left"][vc_column column_padding="no-extra-padding" column_padding_position="all" background_color_opacity="1″ background_hover_color_opacity="1″ width="1/2″][vc_column_text]
1. Live at Etix Live!
Clients and partners got a taste of Etix University's valuable sessions and learning labs on the first day. Our Etix University team was joined by marketing specialists from Rockhouse Partners, Bolt PR, and our partners Best Ring POS and Encore Incentives. Clients were able to get updates on What's New with Etix, take notes on new social media strategies, and get to know our system from the Etix experts![/vc_column_text][/vc_column][vc_column column_padding="no-extra-padding" column_padding_position="all" background_color_opacity="1″ background_hover_color_opacity="1″ width="1/2″][vc_gallery type="image_grid" images="29302,29303,29304,29305,29307,29308,29334,29335,29336″ layout="3″ gallery_style="1″ img_size="400×300″][/vc_column][/vc_row][vc_row type="in_container" scene_position="center" text_color="dark" text_align="left"][vc_column column_padding="no-extra-padding" column_padding_position="all" background_color_opacity="1″ background_hover_color_opacity="1″ width="1/2″][vc_gallery type="image_grid" images="29317,29318,29319,29320,29321,29322,29323,29324,29325″ layout="3″ gallery_style="1″ img_size="400×300″][/vc_column][vc_column column_padding="no-extra-padding" column_padding_position="all" background_color_opacity="1″ background_hover_color_opacity="1″ width="1/2″][vc_column_text]
2. Keeping the party going at Night of 1,000 Empanadas
Our clients really know how to get the party started! The Night of 1000 Empanadas was the nightcap we needed after Etix Live. With Calavera Empanadas & Tequila Bar at the ready with amazing food and great music, we wouldn't be surprised if any of our guests met their new best friend.[/vc_column_text][/vc_column][/vc_row][vc_row type="in_container" scene_position="center" text_color="dark" text_align="left"][vc_column column_padding="no-extra-padding" column_padding_position="all" background_color_opacity="1″ background_hover_color_opacity="1″ width="1/2″][vc_column_text]
3. The Hip Happenings at Hopscotch Music Fest and Oak Lounge
We've discovered the best way to network is listening to great music and hanging out at Hopscotch Music Festival in Raleigh, NC.  Not only do our guests get to see how an Etix-powered festival is ran, but also get the VIP experience at Oak Lounge. Main stage acts this year included Erykah Badu, Sylvan Esso, Vince Staples and more.[/vc_column_text][/vc_column][vc_column column_padding="no-extra-padding" column_padding_position="all" background_color_opacity="1″ background_hover_color_opacity="1″ width="1/2″][vc_gallery type="image_grid" images="29327,29328,29329,29330,29331,29332,29333,29353,29354″ layout="3″ gallery_style="1″ img_size="400×300″][/vc_column][/vc_row][vc_row type="in_container" scene_position="center" text_color="dark" text_align="left"][vc_column column_padding="no-extra-padding" column_padding_position="all" background_color_opacity="1″ background_hover_color_opacity="1″ width="1/2″][vc_gallery type="image_grid" images="29337,29339,29340,29341,29342,29343,29344,29346,29348″ layout="3″ gallery_style="1″ img_size="400×300″][/vc_column][vc_column column_padding="no-extra-padding" column_padding_position="all" background_color_opacity="1″ background_hover_color_opacity="1″ width="1/2″][vc_column_text]
4. Eat & Meet at Etix HQ Cookout
On the second day, we invited everyone on a short trip to the Etix HQ for a mini food truck rodeo and office tour. American Meltdown, Baguettaboutit, and Big Mike's BBQ gave guests a chance to try Raleigh's southern tastes.  Our partners, WorldWide TicketCraft, Alvarado, Best Ring POS, Barcodes Inc, Encore Incentives and Boca Systems, showcased their products and services.  Clients and partners also got a first look at the new Rockhouse Partners homebase.  You can say that the wall is now a little greener on the other side.[/vc_column_text][/vc_column][/vc_row][vc_row type="in_container" scene_position="center" text_color="dark" text_align="left"][vc_column column_padding="no-extra-padding" column_padding_position="all" background_color_opacity="1″ background_hover_color_opacity="1″ width="1/2″][vc_column_text]
5. A Magical Ending at our Courtyard Brunch
At Etix, we don't brunch on Sundays.  We brunch on Saturdays in the private courtyard space of Sitti.  Attendees were treated to a Bloody Mary and Mimosa Bar and casual meetup with our team.  To top it off, Michael Casey aka "Magic Mike" kept our guest mystified with his mind bending card tricks. We're still figuring out how he gets the whole deck to disappear.[/vc_column_text][/vc_column][vc_column column_padding="no-extra-padding" column_padding_position="all" background_color_opacity="1″ background_hover_color_opacity="1″ width="1/2″][vc_gallery type="image_grid" images="29309,29310,29311,29312,29313,29314,29315,29316,29326″ layout="3″ gallery_style="1″ img_size="400×300″][/vc_column][/vc_row]