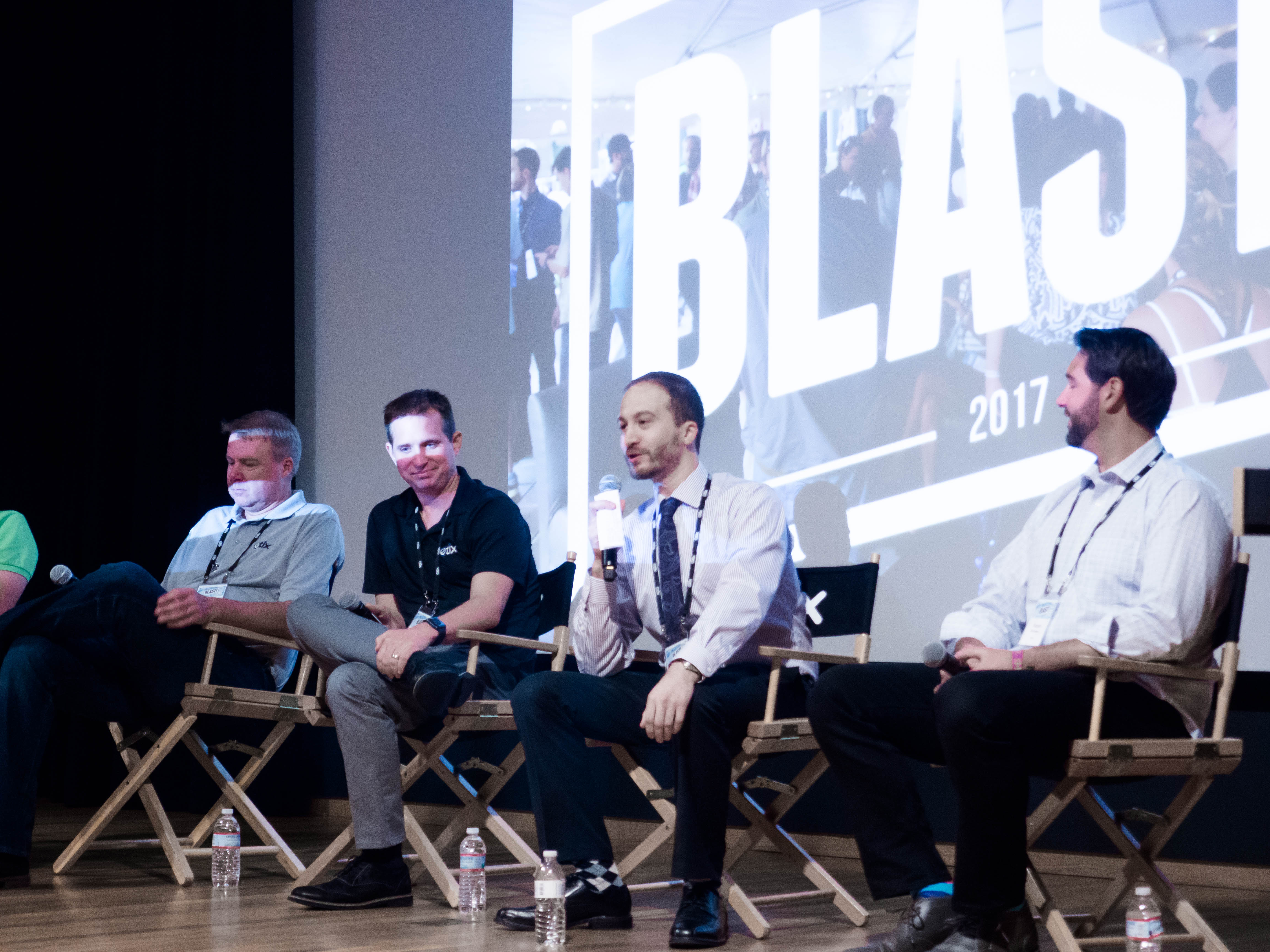 Etix Blast! 2017 Recap Reel
by Zarrin Alam
|
September 19, 2017
Community & Culture, Industry Events, Company News
2017 marks the fifth year of our annual summit Etix Blast! Our retro inspired registration packets were one of Etix Blast! 2017's biggest highlights. These custom Etix lunchboxes featured a few recognizable team members and were filled with everything needed to enjoy Etix Blast! It was the conversation starter that lead to a weekend full of highlights.
Catch some of our favorite moments and view our photo album here:
1. Talking Product at Inside Etix: Past, Present and Future
We solidified 2017 as the year of growth at Etix. To recap the progress we've made and will make in the coming year, we sat down with a few of our power players to talk about Etix's journey in the live events industry, and where we're headed with our ticketing platform. The panel included CEO and Founder Travis Janovich, Director of European Operations Krister Larsson, Director of Marketing Aaron Bare, Product Manager Nick Zafiropoulos and Director of Client Success Kevin Brosseau. Inside Etix was held at our partner venue North Carolina Museum of Art and also included a lunch reception to network with staff and our partners Boca Systems and Allianz.  
2. Events, Powered by Women Panel
Etix Live is always one of the biggest components of Blast! We love taking a dive into our platform and providing insight about digital marketing and ticketing. This year, we added an industry panel and brought four leading ladies together from some of our partner venues. They shared their stories of their journeys to venue management, scope of expertise, and success in the event industry.  These women come from a variety of backgrounds including museums, fairs, performing arts theaters and more.
The panel featured:
Chantal Sulier, Box Office Manager of NC Museum of Arts

Gail Anderson, Box Office Manager of Minnesota State Fair

Samantha Sawyer, Marketing Manager of SMG Richmond

Dolly Vogt, General Manager of SMG Richmond/Boothe Amphitheater
"[Events] is the best business to be in.  It's so much fun every day." – Dolly Vogt
3. Sippin' on Gin & Jazz at the Afterparty 
We took our Blast! Attendees back to the 1920s for a night filled with gin cocktails and jazz music at Trophy Tap + Table. The speakeasy vibe resonated through the night as attendees enjoyed their specialty drinks and a live three piece jazz band. A visit from our favorite punk rock magician Magic Mike ended the night with laughter and jaw-dropping card tricks.
4. Hopscotch Music Festival 
Pairing Etix Blast! with Raleigh's biggest music festival is the cherry on top for our annual summit. Attendees get to enjoy Etix events during the day and spend their nights catching Hopscotch shows – including performances at some of our local partner venues like Pourhouse Music Hall, Lincoln Theatre and Kings. It's a unique opportunity to see how Etix powers a multi-day, city-wide festival like the usage of RFID technology.
Honorable mention to our President of Sales, Ben Wingrove for a rockin' performance with his band Psycho Sonic Cindi.  Etix staff and partners made it out to show their support for Ben as the band played together for the first time in 22 years!