Be Our Guest!
Join us in Orlando this February for Etix Live, Etix University's client training workshop!
There's still time to register!
Where
Holiday Inn Orlando-Disney Springs
When
Tuesday, February 12, 2:00 pm–6:00 pm
Wednesday, February 13, 9:00 am–5:00 pm
Thursday, February 14, 9:00 am–1:00 pm
Cost
Etix Live sessions are on us! You're responsible for your travel and hotel stay.
What To Expect
Become an Etix Expert after two days of in-depth training.
Attend an optional half day of beginner classes including the "Bare Necessities of Etix" and "Let's Get Together: Package Boot Camp."
Learn in a small classroom environment with an average class size of 25.
Attend box office classes focusing on venue setup, performance creation, reporting, and day-of-show tasks.
Attend marketing classes focusing on social media, email best practices, and system marketing tools.
Enjoy new content and reformatted sessions, even if you've been to a past Live event.
Network with other industry professionals.
Meet one-on-one with Etix Experts during learning labs.
Enjoy lunch on Wednesday and Happy Hour on Tuesday!
Access downloadable reference guides.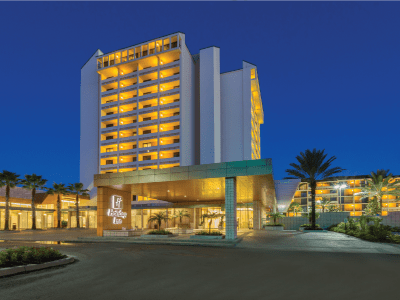 Hotel Information
There are a limited number of rooms secured at $159 a night for a standard view room or $190 a night for a pool view room at the Holiday Inn Orlando-Disney Springs Area.
Please help us keep Etix Live affordable as the event continues to grow by booking in the Etix Live Room Block at the Holiday Inn Orlando-Disney Springs.
The Etix Live hotel rate has been negotiated to keep costs down for you, and we are able to receive a better rate for the meeting space and thus keep registration complimentary.
Contact us to see if there are any rooms still available at the discounted rate.
Rooms are available for checkin starting February 8 and checkout February 18. We recommend arriving in Orlando February 11 and departing no earlier than 4:00 pm February 14.
Flight Information
Secure your discounted flight to Etix Live: Orlando on Delta Airlines.
To book your discounted flight, click this link. Be sure to enter the NMSPY in the "Meeting Event Code" box provided to receive a discount. Note: The code may already be filled in for you.
Reservations may also be made by calling the Delta Meeting reservations line at 800.328.1111 Monday–Friday, 7:00 am–7:00 pm CT.
Schedule
Detailed Schedule available now!
Justify Your Trip
Invest in Your Career as an Entertainment Business Professional and Invest in Your Venue, Your Patrons. At Etix Live you will walk away an Etix Expert after two days of in-depth training with our Etix University Instructors plus an optional half-day bootcamp.
Etix University will offer classes focused on the Etix system, marketing, and venue management. Come together with clients from a wide variety of venues and events to network and train. Then take what you learn back to your staff to help them provide your customers with the best experience.
Questions?
Contact Etix University with any questions regarding Etix Live: Orlando!
Tweet us @EtixWorld with the hashtag #EtixLive and let us know you're excited for Etix Live: Orlando