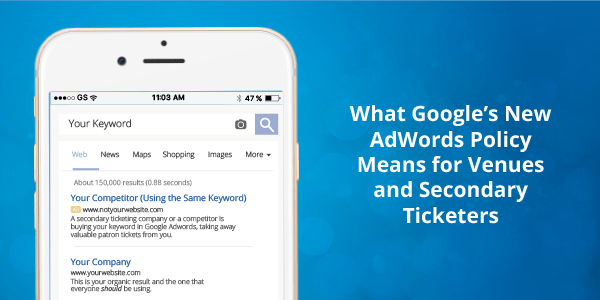 What Google's New AdWords Policy Means for Venues & Secondary Ticketers
by Wendy Beasley
|
January 24, 2018
Marketing
As of January 1, 2018, there are new AdWords disclosure requirements for ticket resellers, requiring them to be certified by Google.* This certification comes with a number of stringent requirements, including:
Resellers cannot use artist or venue names in their website / landing page URLs, nor the word "official" as part of their description.

Resellers are now required to make it more transparent that they are a secondary market. Google specifically states:



"This disclosure should be easily visible and clearly explained in the top 20 percent of the reseller's website, including the home page and any landing pages."
In March 2018, resellers must go one step further and clearly display the face value of a ticket along with the resale price.
So what does this mean for primary ticketers and venues? 
For starters, you'll have a more level playing field in the AdWords market, which means more opportunities to be at the very top of Google search results. This will likely result in better web traffic and selling opportunities for you, as well as fewer headaches for your fans (and fewer support issues for your team).
Want to learn more about Google AdWords, Search Engine Optimization and other ways to improve your digital marketing efforts?
CONTACT US
*Primary ticketers and venues will not require certification. However, if you sell both primary and secondary tickets, you will need to fill out the Google certification application.