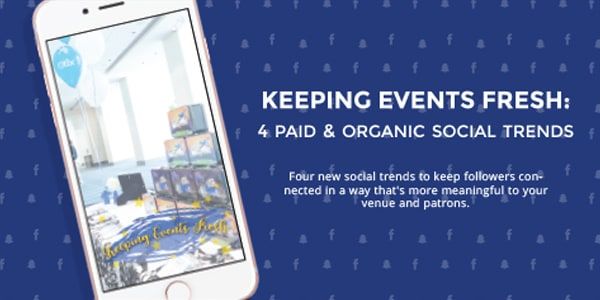 Keeping Events Fresh: 4 New Social Media Trends To Try
by scollins
|
September 27, 2017
Marketing
Keeping social followers and paid audiences interested and engaged in the content you produce can be difficult. Here are four new social trends to keep followers connected with your venue and events in a way that's more meaningful to your venue and patrons.

Snapchat Geofilters
Snapchat is now lapsing Twitter in terms of active users, which makes now the perfect time to integrate the mobile-centric platform into your digital mix. You can utilize the Snapchat geofilter feature at events or venues to engage with patrons in almost real-time.
Event goers generate content by taking photos and videos and using a location-based "filter" designed by you. These filters appear for use within a certain location and time frame, which makes it perfect for live events. Snapchat geofilters are a great way to gain brand recognition as the filter can feature imaging and copy related to your venue or event while providing a simple way to engage with the Snapchat's large young following. Snapchat users can also share straight to your event story creating a more personal experience.  
Facebook Live
New media, especially video and livestream, rank higher on Facebook timelines because it's the best way to increase engagement, especially with the introduction of automatic video play. Live video was also recently introduced to the digital community as a way to share content in real-time and generate buzz through live chat.
You can utilize live video at your next event by engaging those who may or may not be attending. We've seen some of our client venues use live video as a way to show an excited crowd before doors, an interview, or even an exclusive backstage tour on show night. It's an intimate way to give those at home an inside look and incite a bit of #FOMO.
Pixel Audience
An important aspect of social media to keep in mind is the delivery of paid social to a valuable audience. Social media pixels, like Facebook pixels, can help ensure the content you are producing is reaching an audience that will listen and engage. Placing pixels on the Etix ticketing and confirmation pages allow you to target those who made it to the ticketing page of the purchase process, but did not complete the order. Should they have completed the order, they will not be targeted.  This can save you ad dollars by marketing to potential patrons that need a little bit more coaxing instead of those who already purchased tickets.
Facebook Dark Posting

If you mastered the basics of Facebook Ads, then it's time to turn it up a notch. One way is by building ads through your Facebook event. This is a form of dark posting. Different from boosting a post or creating an ad through a campaign and ad set with a scheduled or published post, dark posts operate as newsfeed style posts that never show on your page or a fan's feed organically.  
Dark posting not only streamlines page appearance but can also provide valuable data about which posts are the most successful when served to your audience. A/B testing is also simpler with dark posts. You can create different variations of an ad (same messaging, different copy, different call-to-actions) for different audiences without any of them showing up on your page.
To learn more about new ways to extend your social media reach, contact us for tips and digital marketing advice. 
ASK US ABOUT SOCIAL MEDIA