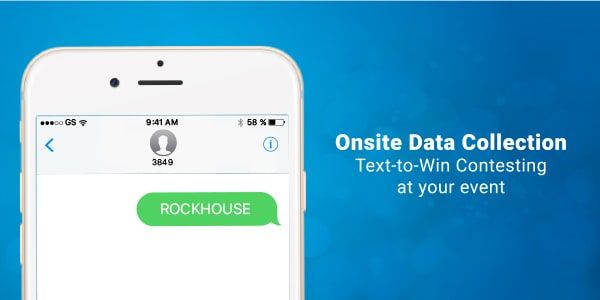 Onsite Data Collection: Text-to-Win Contesting at Your Event
by EtixMarketing
|
October 17, 2017
Marketing
Collecting ticket buyer data should go beyond asking for an email address during the ticket purchase process. In fact, relying on this method alone neglects ⅔ of your actual audience – since the average ticket order contains 2.7 tickets. Your digital marketing efforts combined should get you closer to reaching every person in your target audience, whether it's collecting email addresses on the venue website or in Etix's Pre Sale Notification feature. One frequently overlooked data collection method can help you identify the other 1.7 people attending your event:
onsite data collection.
Implementing an onsite text-to-win contesting strategy will give you a better idea of who are the most engaged attendees at your event, and how to increase your base of long term customers. This strategy uses phone numbers as the key way to identify and reach your audience.
What to consider for your first text-to-win contest
If you want to give text-to-win contesting a try, start by establishing an end goal for this strategy.  Are you hoping to increase fan engagement during events? Identify your super fans? Collect ticket buyer data to use for later retargeting campaigns?  Identifying the strategy goal will assist in creating message content and tactics, and ultimately help you find the right audience.
Next, think of a giveaway that will encourage a high portion of your onsite attendees to take part in the contest. These can be front row tickets, upgraded seats, meet & greet packages, and tickets to next year's event before they go on sale.  
Once you choose your giveaway, you will have to setup a keyword through a text messaging service, like EZ Texting. Your keyword should be a unique combination of letters and numbers that is concise and memorable. Event attendees will enter the contest by texting this keyword to a predetermined phone number provided by the service.
Get your contest up n' running
Once your keyword is set up, you will need to promote the contest onsite during the event and tell attendees how to enter.
This messaging should be visible everywhere during your event for maximum exposure – large signs, onstage announcements, promotional materials put out by advertising partners, street team collateral and anything else you and your team can think of that makes sense for your event.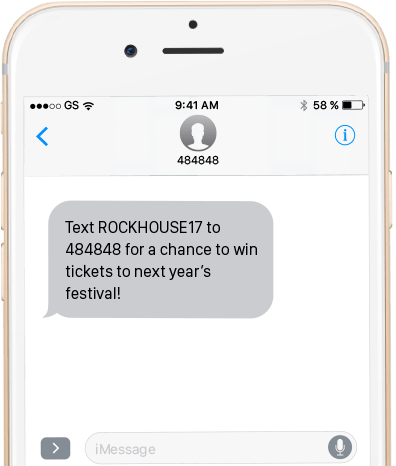 What to do after the contest ends
Once the contest is complete, you can export all collected data from the text messaging service. What can you do with a list of phone numbers? Here are few strategies to start with:
Send important SMS updates through the text messaging service to the list – event updates, post-event thank you messaging, etc.

Create a Facebook Custom Audience by uploading the phone numbers into Facebook Ads Manager. Facebook will scrape through the uploaded list and match phone numbers with Facebook profiles that list that phone number. This will give you a curated audience of event attendees (in addition to your ticket buyer data!)

Run email capture contests targeted at the above mentioned custom audience to round out their customer profile. This could be a giveaway on Facebook where users must submit their email address to enter. You can then use all of these email addresses in your email database as one more touch-point for future communications.
As trends evolve, you will now have a database of highly qualified phone numbers to utilize in future marketing efforts! Rockhouse Partners has helped clients successfully execute text-to-win contesting, including Country Summer Music Festival and Symphony Orchestra of Augusta.
ASK US ABOUT TEXT-TO-WIN