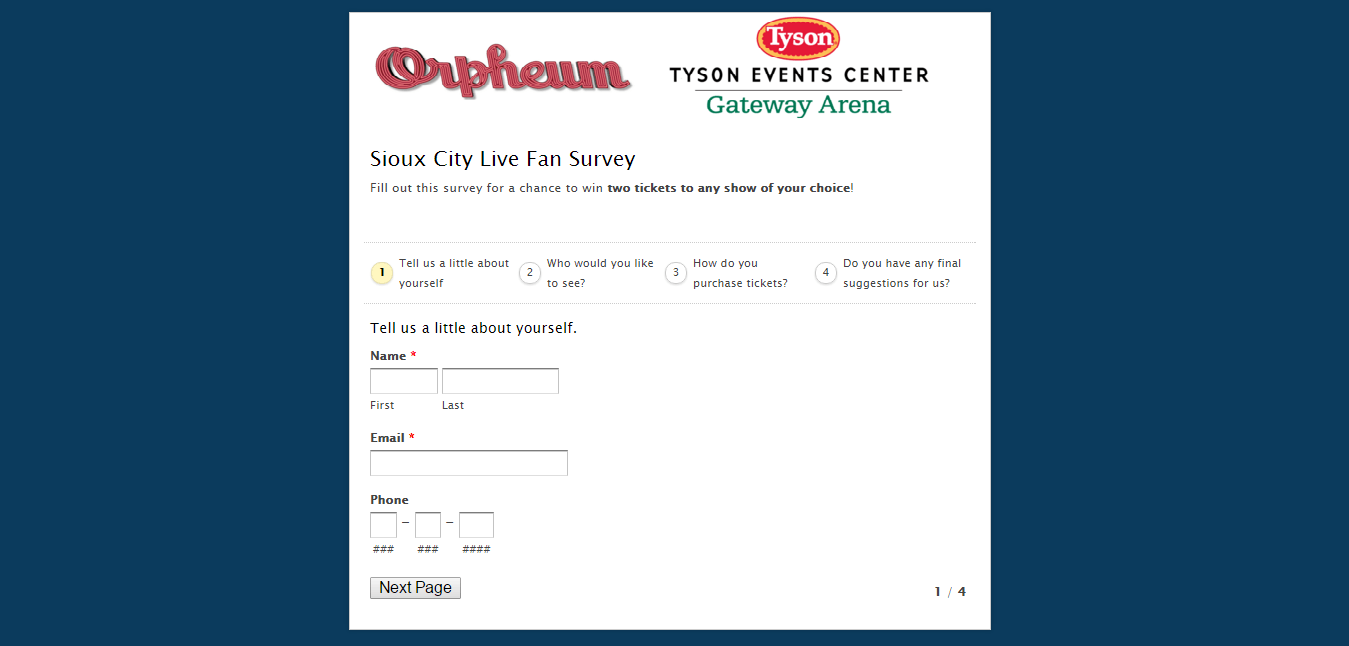 Success Stories: Getting the Most out of Sioux City Live's Fan Survey
by EtixMarketing
|
February 19, 2016
Case Studies
Overview
Doesn't matter if  you manage a 50,000-seater arena or a small opera theatre, it can be tricky to get a clear picture of who your audience is. What shows are they excited to see? How much are they really willing to pay for tickets? What channel will they use to buy those tickets?
When our friends at Sioux City Live asked the same questions, we knew this was a big opportunity to not only get them the answers, but to unlock valuable insights about their fan base.
To collect customer feedback and gather email addresses, the Rockhouse Partners team created an in-depth Fan Survey to uncover all the hard-to-get answers in a simple interface. Once we had the survey built, a tracked link was shared to the entire Sioux City Live email database and all of their social channels.
So what we did to do motivate fans to take our survey? All respondents were automatically entered to win two tickets to a show of their choice, including Echosmith, The Avett Brothers, CMT on Tour, and more.  We were pretty confident that free tickets to any of these shows would draw a variety of entrants.
The Challenge
We all struggle: Surveys don't always work the way we want them to, whether not enough people respond or give half-hearted answers. This is because people aren't always given an incentive to take them. Fan opinions are important, and Sioux City Live was willing to provide the best possible incentive: Two free tickets to any upcoming show.
What We Did
Once the survey was built and tested, we sent subscribers this email, and shared the tracked link across Sioux City Live's social media. Not only did this tactic draw existing fans — but new fans could participate through social channels.
The survey window was closed after two weeks, and we compiled the responses.  With over 1,100 unique respondents, we had a massive amount of data to sift through.
After we randomly picked and contacted the winner of two free tickets, we gather all the other entrants for a remarketing campaign. This "We're Sorry You Didn't Win" email campaign gave us the opportunity to thank fans for their valuable opinions, and remind them of upcoming shows.
The Takeaways
How People Buy
The fan survey responses only strengthened the growing trend of buying tickets online. Nearly 70% of respondents said they'd rather buy online compared to the 24% who still prefer hitting the box office.
What They'll Spend
We posed a tough question: If your dream tour line-up announced a date at a Sioux City Live venue (we're talking Adele meets Coldplay), what's the most you'd pay to see them live? 64% said they would pay $50-$100 for a ticket, with a mere 14% saying they'd dish out over $100.
Fan Feedback
Positve feedback was similar across the board: Sioux City Live offers a great variety of entertainment on a user-friendly ticketing platform: "Your ticketing company is very user friendly and straightforward." The venue security is excellent, and their recent renovations made the historic Orpheum Theatre even more of a highlight. One of our personal favorite responses: "You do a good job with emails…not too many; just right. Thanks."
Mixed with the positives were crucial constructive feedback. Some were expected: pull in a wider variety of shows, cheaper tickets, et cetera. Others were specific: a shuttle service for more events, better handicapped facilities, senior citizen discounts, less shows on weeknights ("too hard to find a babysitter") and cheaper beer.
Whether comments were positive or negative, all fan comments were taken into account. At the end of the day, any kind of feedback will serve Sioux City Live to improve their live experiences for fans.
The Wins
While fan feedback was the goal of this survey, the goldmine of data took home the MVP title. All 1,000+ entrants shared the genres they're interested in and gave a brief list of performers they'd love to see for future shows. At the click of a button, we were able to import their preferences into perfectly segmented genre-specific groups!
Did You Know: MailChimp found that the Open Rate was nearly 15% higher with segmented email campaigns than non-segmented campaigns. Even more important, Click Rates were 60% higher with segemented campaigns..
GET STARTED WITH ROCKHOUSE