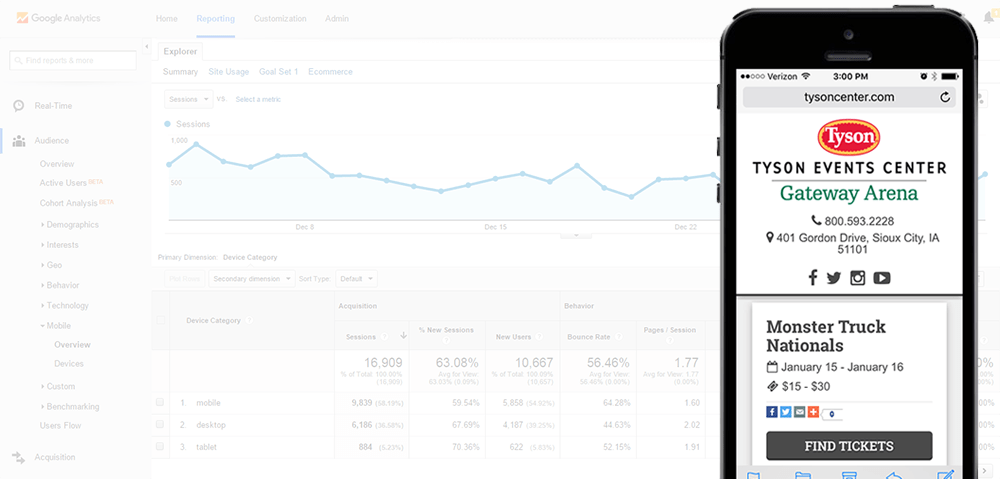 Success Stories: Tyson Events Center
by EtixMarketing
|
January 8, 2016
Case Studies
[testimonial_slider][testimonial title="Testimonial" tab_id="1451873999097-6″ name="Erika Newton, ‎Executive Director" quote="We've been extremely pleased with the look and performance of our new website, including the mobile version. It's all about making it easy for customers to find and purchase tickets, and this new site does that beautifully. Its simple, clean design takes the guesswork out of trying to purchase tickets on your computer or mobile device. We rarely get calls in our box office from customers confused or frustrated because they can't figure out how to find information."] Click the edit button to add your testimonial. [/testimonial][/testimonial_slider]
Overview
Etix clients have digital content optimized for the mobile experience thanks to Rockhouse Partners as 79% of people start their search for live event information on a smartphone. With this in mind, Rockhouse conducted an SEO audit on Tyson Events Center's website to find new opportunities for improvement.
Rockhouse Partners took the positive and negatives of Tyson's analytics and audit results to create their new website on an Etix-integrated platform with SEO best practices as one of the main ingredients.
The Challenge
Before the new website, mobile traffic only consisted of 11% of Tyson's total traffic.  There was no mobile-friendly tag on SERPs (now an important SEO ranking factor), and it was almost impossible to begin the sales funnel from a mobile device.
After analyzing a sample of our clients, Rockhouse found that an average 44% of ticket sales take place on smartphones. With that said, our goal was to sell more tickets by drawing Tyson site visitors into the conversion funnel as quickly and smoothly as possible.
What We Did
To develop a website that was up to the standards of the best mobile performance, Rockhouse completely rebuilt tysoncenter.com on their new  template platform. SEO practices come bundled with structured data, responsive design, and our newly launched Etix API Integration. This led to Tyson's digital presence, specifically mobile and SEO, improving drastically.
Click here to see what features are part of the new website platform.
The Wins
With the launch of the new site, Tyson's analytics began to tell a really different story than before. Here's a brief summary of what we've seen post-launch:*
On the flip side with SEO practices, sessions driven by Organic Search comprised just 6% of traffic in pre-launch, and has since increased to 34%.
Remember when we said that mobile traffic was a measly 11%? Now 56% of all traffic comes from mobile + tablet devices.
*Denotes the included data date range: September 24 – December 20 as compared to: June 28 – September 23, 2015.