Success Stories: Using Timehop to Drive Email Campaigns
by Aaron Bare
|
January 22, 2016
Marketing, Case Studies
How Timehop-style emails helped increase open rate by 81%.
With 12 million users and counting, the chances that you've either heard of or used Timehop are pretty high. The app's "look-back-in-time" feature has clearly triggered people's nostalgia for major events in their lives – but how can brands and marketers take advantage of its value?

Our team at Rockhouse Partners tested the idea with an email campaign for South Shore Music Circus, and saw huge returns: an 81% higher open rate and a 100% higher click rate. We've taken what we learned to give you three tips for starting your own creative Timehop-style email marketing campaign:
1. Know who your audience is.
What is your brand's persona? Would your audience expect a fun, casual email or is more receptive to professional tone? Either way, your email subscribers will be happy to see something out of the ordinary in their inboxes instead of the same hard sell emails they receive throughout the day. This is especially true if the offer is timely and valuable.
2. Timing is key.
For South Shore, the Rockhouse team wanted their message to link to a specific memory that surrounds, "What were you doing on this day a year ago?" What better way to kickoff online sales than reminding subscribers of the struggles of Black Friday lines? Try utilizing your customers' purchase history or events they've previously attended to make the relevance of your messaging standout.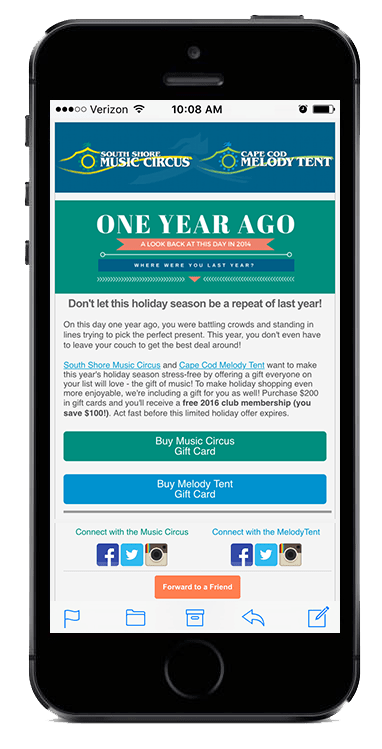 3. Segment, segment, segment.
Segmentation is something we like to keep at the forefront of our minds, and with good reason: research from our friends at MailChimp shows segmented campaigns have about 59% higher click-rates than emails sent to all subscribers. In South Shore's case, by targeting only those who purchased 2015 memberships, but have yet to buy 2016 memberships we were able to ensure the email's Timehop style message would be relevant to all who received it.