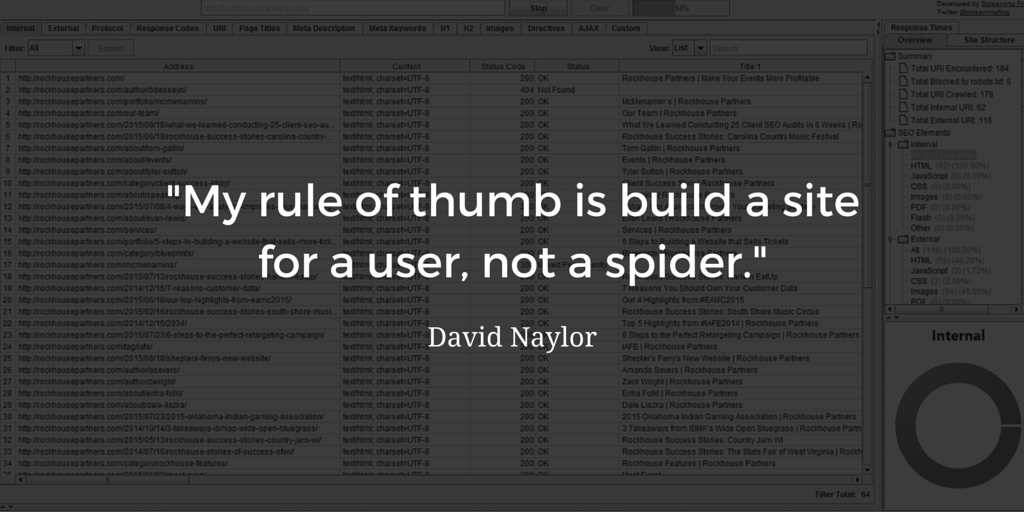 What We Learned Conducting 25 Client SEO Audits in 4 Weeks
by EtixMarketing
|
September 25, 2015
Marketing, Case Studies
Let's face it, SEO can be a scary beast to tackle if you don't know where to start. For this reason alone, many Etix clients turn to our digital marketing team at Rockhouse Partners to guide them to not only better Search Engine Optimization but also to increasing their ticket sales. Wondering how your events can benefit, as well? Check out this latest post from SEO expert, Erika, and the team at Rockhouse.
Here at Rockhouse Partners, we're known for doing things a little differently. We love a nice office hammock and the occasional Nerf gun battle, and our unconventional tactics tend to shine when it comes to getting work done. When we pitched the idea of completing an SEO Audit Marathon, the first reaction from the rest of the team was obviously "challenge accepted."
Our in-house SEO Specialist, Erika, went on a training spree, educating a team of Marketing Coordinators on the ins-and-outs of the SEO frontier. The mission was simple: 4 weeks, 25 client websites, and actionable, well-executed SEO audits for each.
Three Marketing Coordinators went from novice to experts in SEO, and 25 clients received beautifully packaged 10-page SEO Audits in their inboxes. Once we had the chance to do a marathon cooldown (with an intense game of kickball, of course), we reflected on the audit process, what we learned and why SEO isn't the scary beast it's made out to be. In fact, there are simple ways for an SEO newbie to improve their game.
The Takeaways
We dive into a couple of key lessons learned: First and foremost, "organic" is arguably more important to SEOs than vegans, Structured Data can make or break how many tickets you sell, and baby steps are much less scary than the big picture.
Biggest Challenges
SEO is inherently challenging, and we touch on the aspect that was most difficult to overcome: turning chunks of data into actionable recommendations.
Must-Have SEO Tools
We love conflicting opinions, and that's why we leveraged a dozen tools for each Audit. Often, seeing data from two (or six) different standpoints reveals a mind-melting strategy. We'll tell you the three tools that kept our Audit game strong, from desktop to mobile.
Jaw Dropping Moments
SEO can be a shady game, and we uncovered the good, the bad, and the truly horrifying in our SEO Audits. Remember that SEO guy you hired in 2010 because he promised to boost your meta keyword performance? His spammy secrets are what we uncovered half of the time, especially when he misspelled your venue's name (cringe).
What You Can Do
Like we said: SEO can be scary. Whether you're just learning about keyword research or you take pride in being a seasoned Schema master, there are basic steps you can take to up your game. We dish on the three things you can do today to improve your SEO strategy, from upping your Google My Business game and the importance of verifying your page, to Schema Markup.
CONTACT US TO RECEIVE THE FULL ARTICLE