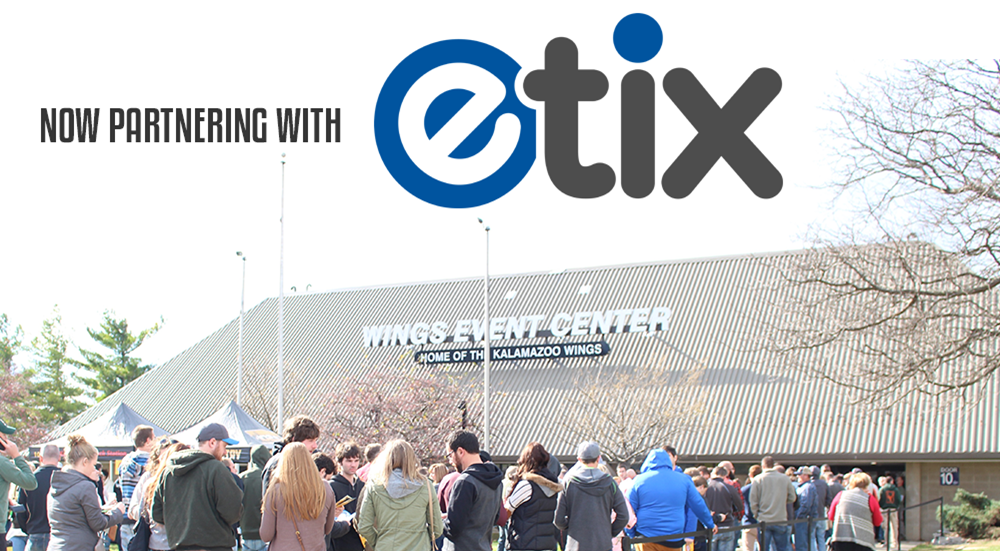 Wings Event Center Selects Etix As Ticketing Partner
by Zarrin Alam
|
August 9, 2017
Company News
Kalamazoo, MI – Wings Event Center is now an exclusive ticketing partner with Etix, a web-based ticketing provider. The new partnership will help improve our guest experience purchasing tickets online and also provide a sustainable approach by using e-tickets on mobile devices.
"Wings Event Center continues to see facility improvements that help us deliver world class guest experiences – moving to Etix is another step in that process," said Rob Underwood, General Manager of Wings Event Center. "We work hard to bring quality entertainment to the Kalamazoo area and we are excited to have Etix on board as part of that process."
One of Etix's notable features is its user-friendly interface and several methods to redeem tickets including print-at-home, mobile ticket or will call.
"Etix offers 24/7 customer access from any computer or mobile device," said Toni Daniels, Business Operations Director of the Kalamazoo Wings. "Our Kalamazoo Wings hockey fans may choose from printing a ticket at home or display a ticket on their smartphone to present at the game upon entry – saving our fans time from standing in long lines at the Box Office." Printed tickets are available through purchasing at the Box Office as well as available for pick up at Will Call by request when ordering online for a small fee, Daniels added.
"Etix's mission is to provide superior ticketing, marketing and service solutions for our clients and their customers," said Travis Janovich, CEO and founder of Etix. "We are committed to growing our ticketing platform with features and updates that will help Wings Event Center sell event tickets easily as well as make it easier for Wings customers to buy tickets."
To purchase tickets for any upcoming shows or hockey games at Wings Event Center, visit wingseventcenter.com or the Box Office. Alternatively, fans can purchase tickets through Etix at etix.com or by calling 1-800-514-3849 (Monday-Saturday 9 a.m. to 8 p.m., Sunday Noon to 8 p.m. EST).
About Etix
Founded in 2000, Etix is an international, web-based ticketing service provider for the entertainment industry, processing more than 50 million tickets per year in 40 countries. Our mission is to provide superior ticketing, marketing and service solutions for our clients and their customers. As the largest independent midmarket ticketing company in North America, Etix has been providing flexible and secure ticketing solutions, digital marketing services, and robust e-commerce fulfillment for over 17 years. Etix is proud to work with 1,800 venues, including theaters, arenas, festivals, fairs, performing arts centers, casinos and more. Headquartered in Morrisville, NC, Etix has offices in Austria, China, Germany, Holland and Japan, as well as a full-service digital marketing agency in Morrisville, NC.
About Wings Event Center
Wings Event Center, owned and operated by Greenleaf Hospitality Group, is home to the Kalamazoo Wings professional hockey team and a full entertainment venue offering concerts, sporting events, family shows and trade shows. Built in 1974, Wings Event Center values partnerships with the community to bring events and attractions that enrich the lives of residents in the Kalamazoo area.
Primary Contact:
Aaron Bare
Director of Marketing, Etix
aaron.bare@etix.com
Sarah Lee
Director of Marketing and Communications
slee@wingseventcenter.com