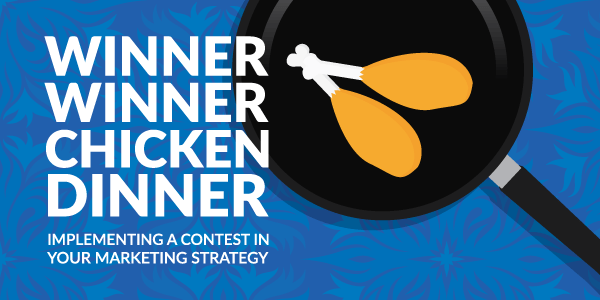 Winner Winner Chicken Dinner: Implementing a Contest in your Marketing Strategy
by Katie Mullins
|
May 18, 2018
Marketing
Contests are an excellent way to increase buzz around a concert or event. They encourage engagement and can even expand your core audience by reaching new followers. A "side effect" of a good contest can be increased ticket sales, which is why it's important to think about contesting as a part of your marketing plan. Use these Rockhouse Partners-approved contesting tips and shake up your marketing strategy!
Schedule
Is your contest a "Win Before You Can Buy" or a "Win Your Way In"? Scheduling contests at the beginning of your marketing plan is a great way to capitalize on the natural "buzz" around a concert announcement. Running a contest during the maintenance period (between the announcement and event) can jumpstart excitement and boost ticket sales during a typically "low" point in the ticket sales cycle. Decide when you want to run your contest, and incorporate it into your overall marketing strategy!
Good Giveaway
Make your contest enticing with a great giveaway item! Your contest needs to catch the attention of your audience, and valuable prizes encourage people to enter. This is a perfect opportunity to give away Meet & Greets, VIP tickets, GA tickets with concessions cash–something more than your average ticket buyer might purchase for themselves.
Enter Here
Design your entry form to be simple, quick, and easy to use. Be sure to collect entrants' names, emails, and phone numbers. This is helpful when contacting a winner, but you are also able to use this data to your benefit later. Rockhouse Partners uses the form creation platform Wufoo to build contest entry forms, but there are other great options out there like Formstack or TypeForm.
Spread the Word
Blast the contest link on all your social media platforms to reach as many potential entrants as possible. Rockhouse Partners suggests putting a budget behind this post and running it as a Facebook ad.
Target this ad to a tailored group of viewers by creating a saved Facebook audience of users in your geographic area who are interested in similar artists or events. This will reach people beyond your organic Facebook audience and will give your contest an extra boost by also running on Instagram. When we worked with Beericana, we implemented a Facebooks Ads contesting strategy that generated over 500 entries.
When writing your post content, be sure to include a link to purchase tickets. Even though you are advertising a contest, it doesn't hurt to encourage people to buy.
We Have a Winner!
When your contest is over, choose a winner using a random number generator to ensure fairness. Contact the winner, and use the data you collected to supplement your email database. Take it a step further and import your list as a custom Facebook audience. You will be able to retarget this group in later Facebook campaigns. Once your winner has confirmed, you can even send a targeted "loser" email to non-winners advertising the upcoming event, or even include a private discount code.
Including a contest in your overall marketing strategy can benefit your relationship with your audience, as well as increase ticket sales. Richmond Ballet and Rockhouse Partners implemented a contest during the client's annual run of "The Nutcracker.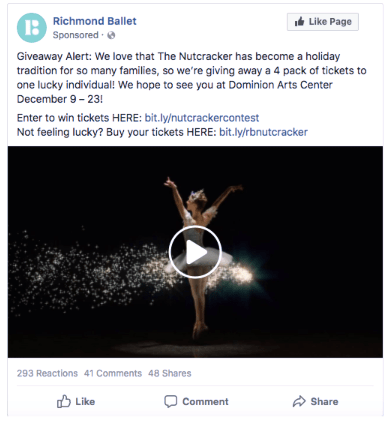 By giving away a family four-pack and putting $500 behind the campaign, Richmond Ballet was able to generate over $7,000 in ticket sales and see a 13.3x return on ad spend.
Their future Facebook and email campaigns saw higher engagement, and they were able to retarget this audience with ads for their next performance, "The Sleeping Beauty."